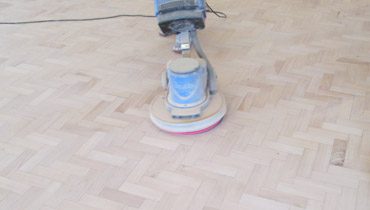 Sooner or later every parquet floor experience the traces of time, inner and outer impact and everyday use, which would not only affect the appearance of parquetry but can also cause major issues and problems, requesting to spend too much time, energy and money. It happens with all types of wooden flooring and changes are something natural, however strict and expert cleaning routine and maintenance can prevent the parquetry blocks from wear and tear for a significant amount of time.
Poor condition is not something you want to settle for, especially when it comes to such an investment as parquet flooring. On another hand, it is really sad to see a distressed parquetry pattern and construction due to negligence and lack of care. If you don't want to be one of those parquetry owners and you want to keep your flooring in optimal condition, we have good news for you – it is really simple and easy to do so. Sanding is an initial restoration stage and has the potential to completely revive instalments for which you have already lost hope for. In addition, the sanding service offered by us in Barnet is timely, efficient, affordable and promises flawless results long-term.
We are a team of professionals and our main goal is to gain as much knowledge and experience as possible. In fact, we are working towards reaching that aim closer every day by achieving perfect results at parquet floor restoration and leaving satisfied clients all around the Barnet area. What differs us from the others, our main advantage is that we know every single sanding project in Barnet needs an individual approach and also that being a leading name in the branch is a slow and complex process of improving daily with every single project undertaken, especially when it comes to parquetry.
Sanding a parquet floor is a tricky business, because of the fact parquetry is a complex way of laying wooden blocks in various patterns and designs. This diversity of patterns means only that the process, in this case, is much more different than solid wood or engineered wood sanding for example. Because of the different directions and angles the wooden blocks are fitted, when it comes to sanding you're going to need an experienced and skilled specialist with a precise eye for the details and professional approach.
In fact, almost every single DIY parquet sanding results as a quality failure. We have no doubts there are many handymen around, however, we know how much time does it takes to learn the parquet sanding craftsmanship to perfection. In order to pass the unpleasant part with DIY-ing, creating a mess and spending too much time and energy, we offer you a professional service at affordable prices and with amazing final results guarantee. Be sure to have a look at our gallery page and see it for yourself. Feel free to contact us on 020 88309782 if you want to request more information about our services.