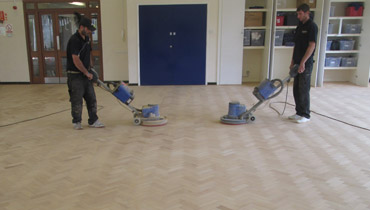 We are here to prove that on-time floor renovation is a great opportunity to boost your business and get image and reputation every Barnet business or school deserves.
No matter the purpose of the commercial building, being part of offices, public area or school floors, as the name itself suggests, commercial areas are visited by many people daily. This makes them sensitive to quick wear and damage regardless of the timber species with their hardwearing abilities. What you can do for keeping the floors in good condition is making sure they properly maintained according to experts' recommendations such as those provided by Barnet Floor Sanding. Our experts are always ready to help with information on finishing or aftercare products.
It has been proved that in the long term, frequently maintained and regularly sanded hardwood floors will last longer than the floors which are restored on an occasional basis. The answer is simple and it lies in the ability of the timber to absorb moisture, which affects its qualities. Can make it expand, shrink, buckle or displays. This is exactly what happens when wooden floors are left unsealed and timber exposed to the environment.
Floor Sanding for Schools in Barnet
Although there is a lot of planning in educational establishments, we understand that they also work on a budget. Our sanding service for schools is priced on a budget as well - we provide specially reduced rates for the restoration of larger areas.
Sanding for Offices, Retail Units & Restaurants in Barnet
Our floor renovation service for high-traffic areas is prompt and efficient! We recognise the needs of the business and know how to work with limited time projects. Of course, without making any compromise with the quality we deliver.
Our experienced and well-organised technicians know how to transform into an inviting and impressive office, every commercially used floor. We provide as well furniture moving service, to off-load the burden of a floor renovation project for offices, restaurants and retail units in Barnet.
Large-scale projects and areas considered expensive to deal with! No, not any more! We believe extra quality doesn't have to cost too much and this is reflected in our sanding prices. In addition, we offer free site visits and we can include some for free! Commercial floor restoration can be messy. Another problem we are already over with! We use only the best quality dust-free sanding machines, which minimise the amount of dust as possible and we can ensure you won't experience untidy setting at all.
This High-Quality Commercial Floor Restoration Service Includes…
Of course, every project has its individual and specific requirements and needs. However, we are able to cover a really wide range of different professional services dedicated to improving the condition and appearance of every commercial wood floor, including:
Overall repair of the floor, including water damage repair, replacement, dealing with cupping and ballooning, warped edges of the floorboards, loose and broken boards, etc.
Spot repair of only the damaged floorboards in high-traffic areas. We will find and supply the perfect match of reclaimed or new wood that will guarantee the even and uniform look of the entire floor.
Gap filling for bringing back the stability and durability of the wooden floor, minimising the risk of major issues and problems, improving the insulation properties of the floor.
Wood floor sanding for removing the top layer of the floor that gives it this damaged, sad, dull, and aged look. Wood floor sanding is designed to get rid of the old finish and all imperfection and issues on the surface of the floor and leaving the surface extra smooth, even, and beautiful.
Wood floor refinishing that ensures amazing and lasting protection and adds a lot of elegance and character to the wooden floor.
Wood floor staining for enhancing the natural colour of the wood species or completely transforming it into something new and exciting.
Wood floor recoating for wooden floors that have been previously finished with oil finish. Perfect for quick touch-ups without the need of time-consuming, stressful and messy sanding service.
We Use Only Best Quality Products
We don't compromise with the quality and efficiency of the equipment and products we use for every commercial wood floor restoration and sanding service in Barnet. We supply the products we use from all internationally renowned leaders and brands on the market and we are sure that the products we choose to use contribute so much to the flawless results we are striving to achieve. The brands we enjoy working with include:
Bona – Bona is probably the most classic and iconic name in the wood flooring industry when it comes to high-quality products and tools. Some of the products by Bona we love to use are Bona Mega Varnish, Bona Traffic HD, Bona Classic Primer, Bona Primer Amberseal, Bona Prime Deep, Bona Prime Intense, Bona Mega and Traffic Natural.
Junckers – Junckers is yet another reputable and widely known name in the wood flooring industry. Junckers products are not only very high-quality but also very innovative. The products we use for our projects include Junckers Strong Varnish, Junckers BasePrime Primer, Junckers PreLak Primer, Junckers PreLak White Primer, Junckers HP Commercial.
Loba – Loba creates products that are suitable for all types of wood flooring and wood species and ensure easy application and flawless results. Some of the products by Loba we enjoy using include Loba WS Easy Prime, Loba WS Viva One-Component Lacquer, Loba WS Fusion Two-Component Lacquer.