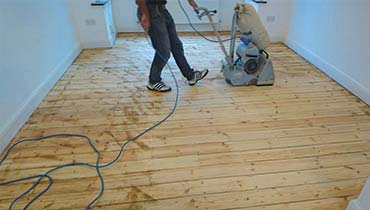 "An Englishman's home is his castle," says the ancient proverb and few would disagree that our homes reflect our emotions, interests and overall views of the world. When it comes to the way we present our home we, of course, want it to looks it's best. And here comes an important, yet often overlooked part of the furniture - the floors. A well kept wooden floor can make a huge difference in the way someone perceives their surroundings. The way it reflects the light from the windows, the feeling of tidiness and polish can really make your imagination go wild by bringing you to a tropical forest or a fine pine wood in a flash. It can complement any decoration or style, fit any setting, help improve any impression. When it comes to sanding wooden floors in Barnet we are the people you should seek out.
Wooden Floors Require Appropriate Care
You don't have to wait. You don't have to reach to the point where you are ashamed of the way your floor looks. Regular maintenance is not a waste of money it is, in fact, a proper and smart investment ensuring that you get the most out of your floor. The beauty of the wood is something that has to be rediscovered and our specialists can help you reach the limits of your imagination when it comes to wooden flooring.
Full Floor Restoration Regardless of Type
Solid wood, engineered, commercial, parquet flooring, in the home, office, bar or school doesn't matter. As a professional company, Barnet Floor Sanding can occupy more people and equipment for large-scale projects. Even if there is a short time window for a huge area, we also offer weekend and night work, so the job will be done on time. Our goals are to bring the best possible results on affordable prices and our experienced team can make even the hardest sanding process look easy. Over the years, we have acquired a great reputation in Barnet, because we actually care not just to finish a job, but to provide services that are capable of satisfying all the requirements of our customers. It is after the sanding process is done that you will realize that your floor might not have looked better even in the day you have bought it.
Best and Latest in Wood Floor Sanding
Barnet Floor Sanding don't just use the latest dust-free equipment. We use specific technology for more delicate types of floors and different finishes depending on the type of wood used. Each and every detail is important because trying actually leads on the path to perfection. Sanding is something easy when done by professional and our team is made up of people with the appropriate training and years of experience. This guarantees that the services we provide here, in Barnet are truly the best. Give us a call at 020 70360622 and you can rely on quality and stability every step of the way.
Did you know that St Jude's Church is part of the Statutory List of Buildings of Special Architectural or Historic Interest? The church was built for more than 20 years. It was founded by Henrietta Barnett in 1907 and it was supposed to be a place where the people from the different classes could live together in social harmony. It is 200 feet long and big part from the flooring is covered with an old beautiful parquetry.
Very happy. Very good overall.
Wonderful job done. Quick and efficient. Very pleased.
Wonderful job done. Quick and efficient. Very pleased.